Become a Penguin Brand Dry Ice® retailer
Talk to us about how you can sell Penguin Brand Dry Ice® in your store
Make your store a little cooler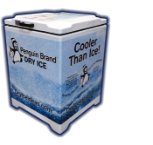 Over 5,000 grocers nationwide make dry ice available to their customers every day. Ready to join them? Contact us using the form provided to get Penguin Brand Dry Ice in your store. We'll follow up to tell you how we can help you:
Attract new customers
Our retail store locator lets your neighbors know they can find dry ice at your store
We provide a variety of point-of-sale promotional materials (e.g. signs, brochures, posters)
Add some style to your storefront
Our attractive storefront merchandiser box stores all your dry ice (and looks good doing it)
Never worry about maintenance
Our associates rotate stock and clean the merchandiser during each delivery
Our merchandiser boxes require no electricity
We have a robust support team always at the ready
Choose the volume that's right for you
12-block box stores approximately 660 pounds
8-block box stores approximately 440 pounds
Request a follow-up
Tell us about your store's needs and an associate will contact you.
All fields are required.