Pack & Send: How to Ship with Dry Ice
Whether it's mom's holiday beef stew or that extra-cheesy pizza from around the corner, there's just no taste like home. But what if you can't make it home? Can that delicious stew come to you instead? The answer is yes, and your friends and family can make it happen by shipping with dry ice.
Why use dry ice to ship your food?
Shipping with dry ice is a great way to get frozen goods from one side of the country to the other. Because it doesn't melt and lasts much longer than frozen water (you know—wet ice), it's the perfect, worry-free solution for many of our food and medicinal shipping needs.
Ready to ship some tasty grub to a loved one? Start by finding Penguin Brand Dry Ice® at a store near you, then send it on its way using the steps and information below.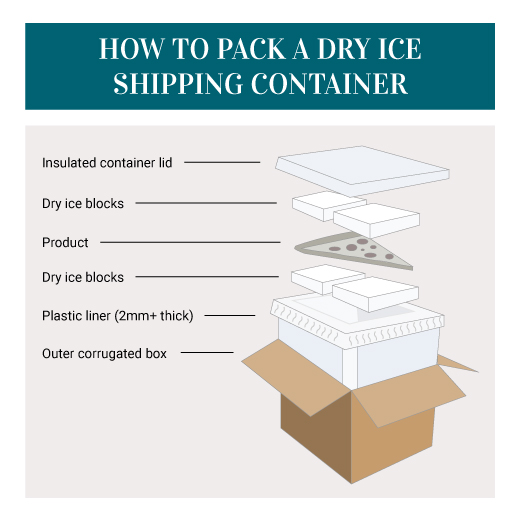 Packaging: What to use and why
Those frozen foods are precious cargo—don't just ship them in any old box. Place your goods inside a cooler before packing and follow the packing diagram for the basic methodology. By packing right, you'll help to keep your dry ice from sublimating too quickly, keeping the contents colder longer and protecting your goods from spoilage.

A few additional packaging considerations to keep in mind:
Add a layer of insulation between your product and the dry ice on either side of it. This will help reduce the likelihood of freezer burn.
Don't tape the lid of your cooler shut—you want the CO2 gas released by the dry ice to be able to escape.
Good to know: Best for frozen goods
Experienced shippers know that packing a box tightly is a good way to prevent damage. But anything packed snugly with dry ice will freeze. So only use dry ice to ship foodstuffs that can be frozen for the duration of their journey without compromising quality.

Breakdown: How much dry ice to use
The amount of dry ice necessary depends on the length of the journey, so it's best to have a good idea of how long your package will be in transit. In general, 10 pounds of dry ice per 24 hours of travel is a good rule of thumb. If you're not sure how long shipping will take, bump it up to 15 pounds per 24 hours. Too much is better than too little.
Shipment guidelines: Last things to consider
You're almost there. Here are just a few more considerations before you rush out to the post office.
Timing is crucial. Pony up for next-day or two-day shipping to make sure your product arrives before spoiling.
Keep it domestic. The US Postal Service advises against international shipping with dry ice since packages often get caught up in customs for longer than 48 hours.
Just to reiterate: Do not try to make the package air-tight by wrapping the cooler with tape or plastic. The design and construction of packaging used for dry ice shipments must prevent the buildup of pressure that could cause rupturing. Simple insulation should do the trick.
And that's it!
If you've got something tasty to ship, use everything you've learned here to get it where it needs to go. And if you're craving something tasty from back home, share this article with friends and family. They'll get the hint.